Slate/Daniel Politi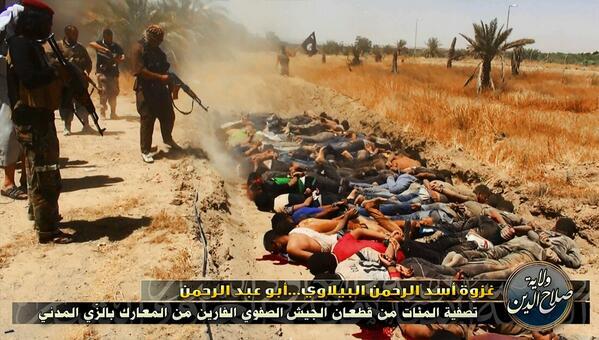 Jenan Moussa
(apologies to the Rolling Stones for hijacking that line)
Park St Station: we had most of the usual crowd, but we did get some people to stop and listen for a while, planting the seeds of Peace one person at a time. We did have a heckler w/the usual, "they'll be here" propaganda. He was engaged by a member, but I got that into a disengagement. I'm of the opinion that no one ever changed someone's mind by arguing with them, discussion works at times but arguments just blow things further out of proportion. Besides, we get far more accolades than hecklers, which shows me people are waking up.
At 2 PM, there was supposed to be something at the Statehouse, a glance up there showed me that whatever it was was either cancelled or just didn't exist.
So……a group of us trotted off to City Hall Plaza, where we waited by the T entrance for 45 minutes w/o anyone showing up. Lo and behold, the Iraqi anti-ISIS was on the other side of the plaza, appropriately I thought, across from the Holocaust Memorial. Perhaps I'm a little too in tune with irony, but while people chanted I thought that the numbers etched into the glass at the Memorial each was a human being; we should have more memorials, one for the Native Americans that were slaughtered, one for the Cambodians slaughtered under Pol Pot. One for the Vietnamese we slaughtered, one for the Iraqi's we've killed, the Afghans, Palestinians who can't get food and medicine and are dying a horribly slow death. The list could go on, but the point is, human beings have done such damage to other human beings, I'm actually amazed any of us still survive.
At the back edge of City Hall, we found the anti-ISIS demonstration, albeit a little late. I unfurled the VFP flag and there were many smiles from the Iraqi's. They had brought children, some in strollers, and I thought that children, women and men, still in Iraq were being killed by some radical cowards known as ISIS, (or ISIL if you prefer). Some of the more graphic pictures were reminiscent of the Holocaust and My Lai, people in ditches being shot to death, (there's that irony again). Men, women and children being murdered while some sick SOB took pictures or filmed the horrific event. The executioners were all in black, to include ski masks, (cowards once again), sickly using their power to bring death to innocent people who merely thought differently than them.
Iraq is a sovereign nation, (I think), at this point. It has the right to defend itself against attack, but if the Army is going to fold at the first shot, what good is it?
Thousands threw off their uniforms and fled, this against a few hundred ISIS members. I have been in firefights where we were out numbered, but good tactical decisions and an eye for the weak spot made a surefire loss into a win. If the Iraqi Army had stood it's ground with it's thousands of soldiers in a good defensive position, ISIS would have paid dearly for their invasion, in fact, they may well have been wiped out. But the Army that was trained by the US, (under Bremer), turned tail and ran. Near as I can figure, that is not a good tactic to be written up in any Field Manual. By some sources, the Iraqi defense forces at the border outnumbered ISIS 10/1, perhaps more. In most attacks on fortified defensive positions you want at least 5/1; ISIS should have been taken out as a force almost immediately, that can't happen though if the defenders panic and resort to essentially a rout w/o even taking a few pot shots at the invaders.
With VFP flag waving in the breeze, I was not about to talk about expanding war, but I made VFP presence known and many in the community recognized the symbol, some even recognized me personally. As rallies go, this one was pushing violence just a tad, nothing radical like murdering all ISIS members, just expelling them from Iraq. To do that though, people are going to die,
I would find myself in a bad position advocating death and war, even though I believe that Iraq has the right to defend itself. I didn't want to be a hypocrite; but the T-shirt and flag were out there, reminding people that we look for peaceful solutions to ugly problems.
So that was my day, interestingly, things went off on time and people got to where they wanted to be w/o 17 other things going on that garners 2 or 3 people each. Communication works when done well.
My best to all, wishing you long and prosperous lives free from war and hatred,
Bob