Sponsored the Boston Globe the Forum was well attended at The JFK Library on Thursday, (6-19), evening. Bostonians , concerned with veteran health concerns, particularly PTSD, TBI, MST, homelessness, and suicide, were in for an informative session that discussed free care for Iraq/Afghanistan veterans who "fall through the cracks" while waiting for VA care and other care available. I would be remiss if I did not mention that this program is sponsored by the Boston Red Sox and called Home Base after the team won the World Series and visited DC with the trophy to meet with the president and were scheduled for a half hour visit to Walter Reed Medical Center to visit with wounded vets. That half hour turned into a five hour stay as the players and management met with convalescing vets. The Red Sox were looking for a charitable cause to sponsor and began Home Base.
The premise is that many veterans from the recent wars were waiting too long in too many cases for care due to a VA backlog for care. Working with Mass Gen Hospital a coalition was built that offered returning vets services free of charge. This is a holistic approach, involving family members, significant others and others of concern.
The following explains a little more of the detail:
THURSDAY, JUNE 19th, 2014
The John F. Kennedy Presidential Library
Columbia Point, Boston
What can our community do to help heal the invisible wounds of war among returning Iraq and Afghanistan veterans and their families?  Less than 1% of Americans have served in these wars. One in three veterans return home with post traumatic stress, depression or traumatic brain injury.  Other invisible wounds include substance abuse, family relationship challenges, stress. The gap in understanding between civilian and military gets wider every day.  As our veterans return from these long wars, what can we do to promote understanding, support, and health among the men and women who have served and their families who have sacrificed for our country.
Panel of veterans and doctors from the Red Sox Foundation and Massachusetts General Hospital Home Base Program.
Moderated by the Boston Globe's Kevin Cullen, himself a military family member
Panelists:
Rebecca Weintraub Brendel, MD, JD
Home Base Clinical Director.  What are the signature "invisible wounds" of war and how do they affect our veterans.  Recognizing  the signs of Post Traumatic Stress and how evidence-based treatment helps veterans recover.  Understanding more about the increase in suicide among active duty military.
Home Base Family Program Director. When one family member serves, the entire family serves.  Military families have experienced enormous relationship stresses during the past 12 years of war as men and women have deployed to war zones repeatedly. How can pediatricians, primary care providers and schools support and build resilience among 13,000 military-connected children in MA?
Home Base Associate Director of Outreach.  A U.S. Marines Corps Veteran who served in Afghanistan, Furlong offers insight on why young men and women choose to serve in the military, how these wars are different, what coming home feels like, and how to address the stigma associated with getting help for invisible wounds of war.
Brigadier General (ret) Jack Hammond
Home Base Executive Director.  After commanding  troops in Iraq and Afghanistan, General Hammond provides perspective on the gap between the less than 1% of Americans who serve in the military and the 9% of Americans who do not. How do veteran-serving organizations like Home Base keep the public engaged after the wars are over, and what are the obstacles to more private sector health  care for the invisible wounds of war, when only 50% of veterans seek care through the VA.
About Home Base: The Red Sox Foundation and Massachusetts General Hospital Home Base Program is one of the only private sector clinics in the nation completely devoted to healing the invisible wounds of war in returning Iraq and Afghanistan veterans and military families. It is the first program of its kind in the nation, engaged in clinical care, community education and research to heal the invisible wounds of war.
Since the fall of 2009, when the Home Base Program began, 1000 veterans and military families have received clinical care and support , and the program has trained 11,000 clinicians nationwide to recognize and address the invisible wounds of war in their practices. For more, visit www.homebaseprogram.org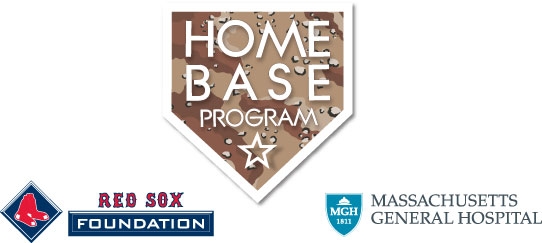 Several members of  the audience got the opportunity to ask questions and yours truly, in VFP Smedley T-shirt, (for which I received about 20 positive comments). My comment/question was about getting more people in the area involved in this program, thanking the good people of Boston who showed up and the panel, I asked how we could ensure people knew of this program because I see this as a combination of community, state and national problem and we owe our vets the best we can offer. However, if vets don't know about Home Base, how can they possibly get treatment from the program?
I offered contact and support from Smedley/Sammie VFP and will contact the network of Peace groups we work with so the word gets out there is free medical care available for Iraq/Afghan vets through this program. I truly believe this program is well worth the effort, even if saves just one life from a senseless suicide, it has worked!
 It takes a strong individual to realize there may be a problem and seek help. The strength shown in the war theaters continues on when we realize that it is not a weakness to seek help, it is a perfectly sensible response to a situation that has arisen.
I ask readers of this blog to let the veterans you know of this program, we're all in this together and need to get the word out for those who need help and don't know where to go or what is available.
Thank you,
Peace,
Bob